Main Content
As the situation around coronavirus (COVID-19) continues to evolve, we have taken some additional steps to best meet the needs of our staff and customers.
Rushford Foods
7am – 8pm Monday – Sunday
Preston Foods
7am – 8pm Monday – Saturday
8am – 7pm Sunday
Harmony Foods
7am – 8pm Monday – Saturday
8am – 7pm Sunday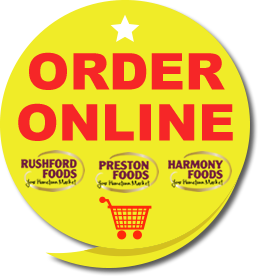 Delivery & Pick-Up
If you find yourself unsure of your health, or you are quarantined by the virus- please do not hesitate to call or order online for delivery or pick-up. We will deliver groceries to your home and drop them off at your porch if you are unable to leave or unsure.
Click here for more information.
At this time, we are asking all customers to respect our request of having the opening hour of 7 to 8 a.m. each day reserved for those shoppers who are at a higher risk of severe illness by COVID-19, which includes older adults and those who have compromised immune systems. This is to provide an opportunity for those individuals to be the first to shop after our overnight cleaning.
When necessary, we will be limiting purchases of high-demand products such as hand sanitizer, disinfecting wipes, bottled water, gloves and bath and facial tissue to increase the likelihood of those products being available to even more of our customers.
We continue to partner with our suppliers and find additional suppliers, when necessary, to keep our shelves stocked with products to the best of our abilities.
Rushford, Preston and Harmony Foods is your local source for hometown fresh!
We are locally owned and operated. We appreciate your business.